Cooper Southeast St. Rose, Louisiana service shop provides full after-sale support for large-bore and small-bore engines and compressors.
Cooper southeast - SERVICE SHOP​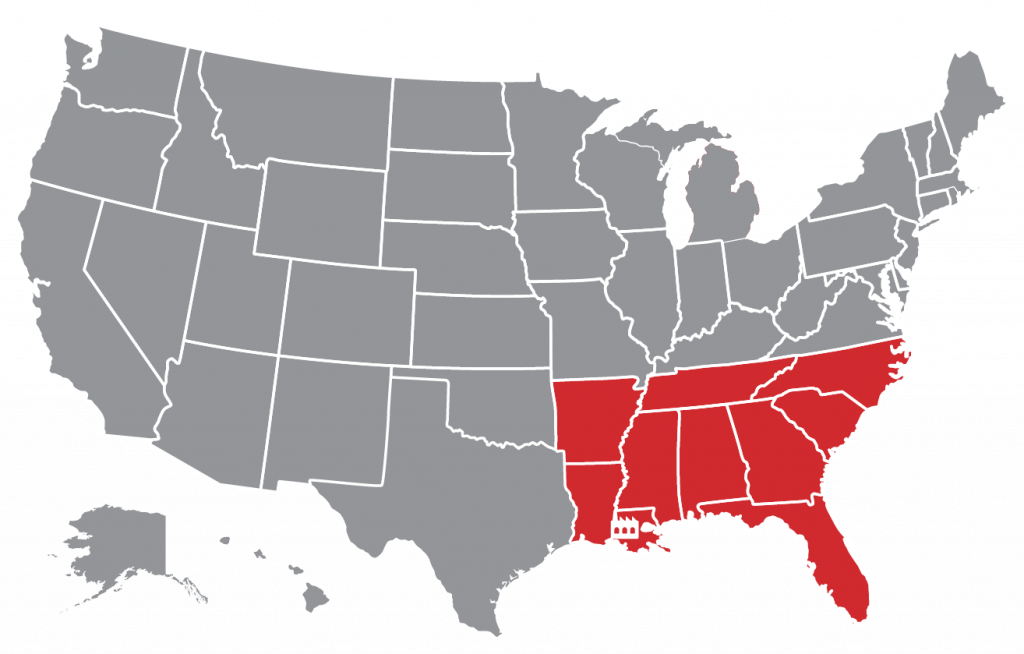 Cooper's St. Rose, Louisiana service shop and manufacturing center offers a diverse array of services including in-house engine and compressor repairs and overhauls, parts manufacturing, and parts warehousing. Established in 1969, the St. Rose service center provides after-sale support for all the major engine and compressor brands from Cooper services (see below). The St. Rose center specializes in parts supply and repair of large-bore integrals such as Cooper-Bessemer, Clark, Ingersoll Rand, and Worthington. In addition to traditional engine-compressor services, we are equipped to handle Winrock analyzer services, turbocharger maintenance and repair, field machining, and control systems.
cooper southeast shop core capabilities

The St. Rose service shop is the Cooper regional shop/warehouse for genuine OEM parts and service, covering the following reciprocating compression and engine products:
Additionally, the Southeast service team has experience servicing the following third party equipment:
This location specializes in the following types of service and repair:
cooper southest shop Specialty
machining tools

cooper southeast shop unit exchange parts

Cooper unit exchange (UX) parts save operating expenditures, minimize equipment downtime, increase reliability, and reduce material waste to limit environmental impacts. Through our service shop network, we take in and evaluate used cores and remanufacture them to our exacting standards. We also use the service shops to warehouse completed cores and stage them close to customers' needs. Brands that we maintain UX parts for include: Cooper-Bessemer, Superior, Clark, Ingersoll Rand, and Worthington. Parts include power cylinders and liners, power cylinder heads, master rods and articulated rods, crossheads and guides, and water and oil pumps. Additionally, Cooper has complete Superior and Waukesha UX engines.
COOPER CASE STUDY: Our St. Rose service center completed a successful overhaul of a Cooper-Bessemer GMVR-12 engine-compressor for a customer in Florida. The overhaul included the rebuilding of power heads, pumps, art rods, piston pins, pin carriers, and compressor cylinders. Our Cooper service team was diligent in inspecting, re-qualifying, and rebuilding the unit to our OEM standards. Southeast Regional Director, Greg Penzato, stated: "Our St. Rose shop has a lot of experience rebuilding the large-bore Cooper and non-Cooper integrals. It's a pleasure working on these great engines and satisfying the customer in the process."

Email
SoutheastSales@CooperServices.com
Phone
504-465-0260
Address
10446 River Road
St. Rose, Louisiana 70087
Established
1969
Property
11 acres
Roofline
45,400 ft2
Shop
27,000 ft2
Warehouse
6,500 ft2
Office
11,900 ft2
Equipment
1-ton cranes (4) 5-ton cranes (3) 10-ton cranes (3) 15-ton crane (1)
Eastern U.S. Operations Leader
Southeast Service Manager
St. Rose Machine Shop Manager
Eastern U.S. Operations Leader
Greg Penzato is a 33-years Cooper veteran who started his career at the Louisiana Service Center as a management trainee. Greg dedicated his career to Cooper and has held many positions in aftermarket services.  Greg learned the business from the ground up and has served as machine shop manager, project manager and services manager. Greg served as the Southeast U.S. region lead until Feb. 2023. Today, Greg is the Eastern U.S. operations leader which includes management of the sales team, parts, inside sales, machine shop and field service group.