ENVIRONMENTAL, SOCIAL, & CORPORATE GOVERNANCe
Cooper strives to ensure the strength, prosperity, and well-being of our employees and communities.
Cooper wins with its people, and people must be at the center of all we do. We actively care about the health, safety, and well-being of every person we touch – something that must never be compromised. Our programs aim to care for our employees and partners, while our culture values diversity, inclusion, and equality of opportunity. We also aim to contribute to the strength of our communities through our philanthropic and volunteer efforts.
Cooper's core values are the deeply rooted principles which guide our company's actions. It forms the foundation on which we perform our work and conduct our business.
| | |
| --- | --- |
| We look out for the safety and welfare of ourselves and others with courage and compassion. We support each other and work as a team. | |
| | |
| --- | --- |
| We acknowledge mistakes honestly and without defensiveness, learn from them, and rectify them promptly. We point out issues and provide solutions, and seek to identify root causes. | |
Accountability & Integrity
| | |
| --- | --- |
| We act with a sense of urgency and as custodians of the business. We have an obligation to pursue excellence, and to act in ways that service our customers furthering our goals. | |
Common Sense (without Entitlement)
| | |
| --- | --- |
| We earn the customer's business by delivering exceptional service, not through entitlement. We value data and make data-driven decisions. | |
OUR COMMITMENT TO DIVERSITY & INCLUSION​
We do not discriminate on the basis of our employees' differences in age, color, disability, ethnicity, family or marital status, gender, language, national origin, physical and mental ability, political affiliation, race, religion, sexual orientation, socio-economic status, veteran status, and other characteristics that make our employees unique. Cooper Machinery Services' diversity initiatives are applicable—but not limited to — our practices and policies on recruitment and selection; compensation and benefits; professional development and training; promotions; transfers; layoffs; terminations; and the ongoing development of a work environment built on the premise of gender and diversity equity that encourages and enforces:
International Women's Day March 8, 2022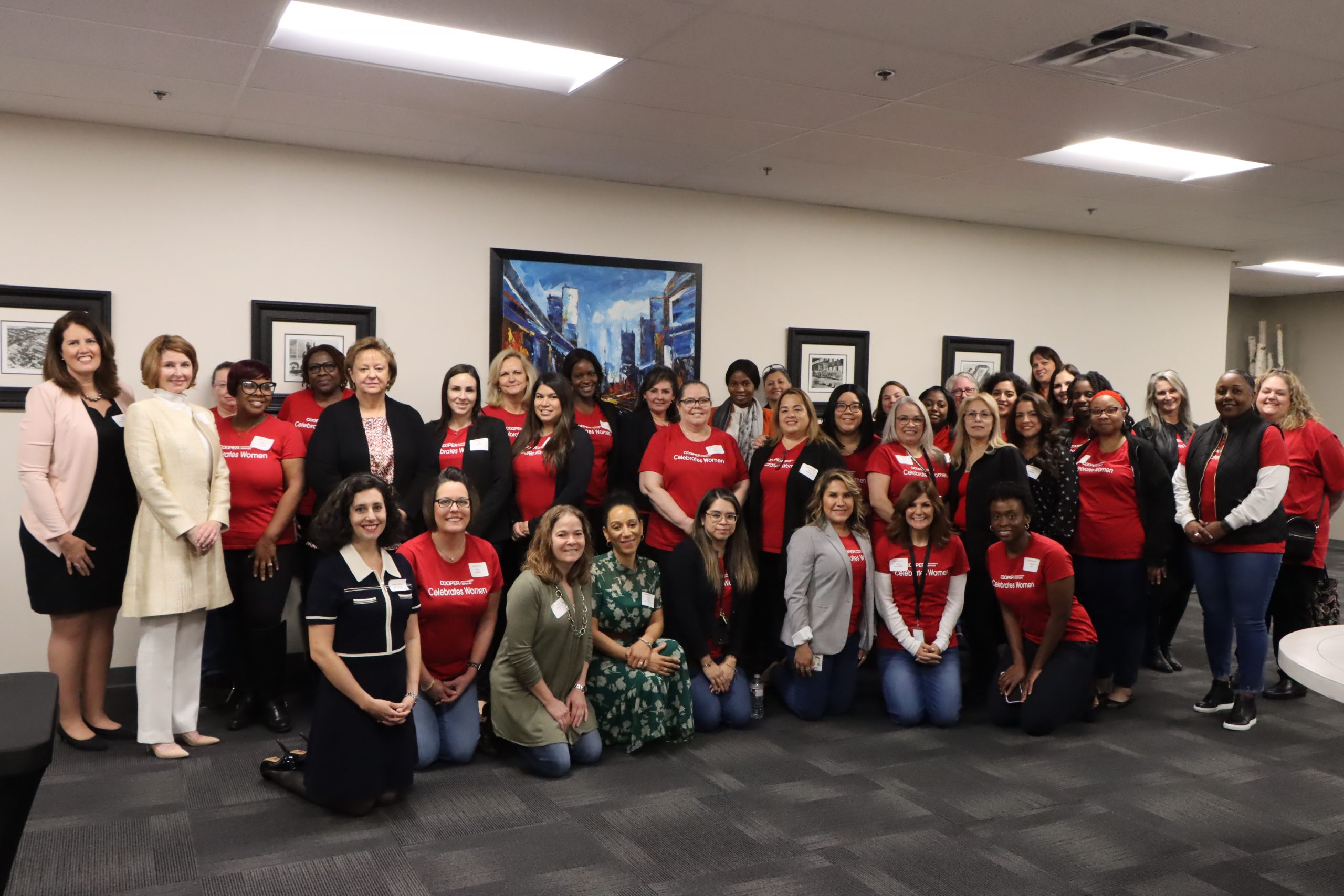 On March 8th, Cooper held its first annual International Women's Day event at corporate headquarters. The event was a rousing success as female Cooper employees from around the world participated in this Houston-based event and discussed topics that included: how successful leaders overcome and grow from mistakes; how authenticity can be a business advantage; how people can build their personal brand; and how preparation is required for achievement of career goals. Panelists and speakers for the in-person event included:

Cherie Humphries, Williams Company –  Vice President, Procurement & Digital Transformation
Gwen Gresham, Core Lab, Inc. – Senior Vice President, Investor Relations & Corporate Development
Marie-Helene Ben Samoun, Boston Consulting Group – Managing Director, Digital Oil & Gas
Karen Johnson, Independent Consultant – Commercial Strategic & Executive Operational Leadership
Tahera Khan, Cooper Machinery Services – Chief Human Resources Officer
CEO Pledge for Diversity, inclusion,
and Performance
Critical to the success of Cooper is bringing together employees with diverse opinions, backgrounds, cultures, and perspectives and ensuring an inclusive environment which embraces these differences. To do this, we need to address relevant concerns and needs for our diverse employees and to increase equity at every level of our organization.
As CEO, to ensure Cooper is taking steps to further diversity, inclusion, and performance within the organizations, I pledge to:
We believe that empowered employees are more loyal and committed and deliver better safety and customer service, so we give our people the tools and resources they need to successfully manage their projects and drive their own careers. Cooper offers on-the-job learning and training for both hard and soft skills.
We make every effort to offer equality of opportunity and hire the most highly skilled and qualified people for our open positions. Anything less, and our safety and performance for the customer is compromised.
Every employee has stop-work authority; if anyone sees any reason that a situation might not be safe, they have authority to stop the work until the risk is addressed.
Cooper Machinery Services prohibits harassment of any kind, including sexual harassment, discrimination, and unequal treatment of individuals based on but not limited to age, race, national or ethnic origin, disability, veteran, marital status, pregnancy, religion, sexual orientation, or any other characteristic protected by law.
non-discrimination & employment practices
Cooper bases employment decisions on talent, job qualifications and merit which include education, experience, communication skills, ability, and job performance. As an equal opportunity employer, employment decisions should also be made without considering a person's race, color, religion, national or ethnic origin, sex (including pregnancy), sexual orientation, age, disability, veteran status or other characteristic protected by law. Cooper prohibits harassment of any kind, and we respect human rights everywhere we work.
Supporting our communities
Cooper is a proud partner of the PTSD Foundation of America/Camp Hope, an organization providing a safe space and support for veterans returning from war with combat-related Post Traumatic Stress.
Helping Our Customers with their journey
Cooper is a proud partner of the PTSD Foundation of America/Camp Hope, an organization providing a safe space and support for veterans returning from war with combat-related Post Traumatic Stress. In early 2022, Cooper named Camp Hope as its "charity of choice" and will conduct company-wide fundraising campaigns and service activities on their behalf.