ENVIRONMENTAL, SOCIAL, & CORPORATE GOVERNANCE
The core of Cooper's E.S.G. journey
COOPER ANNOUNCES MAJOR METHANE BREAKTHROUGH
Cooper has successfully tested a slow-speed integral engine running on a hydrogen (H2)-natural gas fuel blend. The groundbreaking test comes 5 months after the announcement of Cooper's joint hydrogen research project with a major U.S. gas pipeline company to demonstrate the safe operating range of H2 blends in large-bore internal combustion engines.
"Cooper's hydrogen development initiative took another large step forward today. We ran an unmodified large-bore, slow-speed integral engine-compressor with an H2 blend of 5% by volume, and we achieved significant reductions of methane in the exhaust. This is the first such run using significant amounts of hydrogen in an engine of this design." said Cooper CEO, John Sargent. "In May, we will be running up to 33% by volume in the same stock engine. Our customers have thousands of similar units running globally, so the potential reduction of methane is substantial."
The Cooper test was conducted at their slow-speed integral engine test cell at corporate headquarters located in Houston, Texas. The test engine is the current production, NSPS compliant CleanBurn PlusTM AJAX® 2802 with 15″ piston bore, 16″ power stroke, and a speed range of 360-440 RPM. Cooper selected the AJAX engine due to the similarities of its combustion system to that of the large fleet of the other engine brands the company services (Clark, Cooper-Bessemer®, Ingersoll Rand, and Worthington).
INTRODUCING CLEANBURN PLUS

TM


Reduces methane output by up to 40%
The reduction of greenhouse gases, particularly methane, is a key element of Cooper's emissions reduction technology offering. To improve the environmental impact of engine-compressors operating within our industry, Cooper is pleased to announce CleanBurn Plus™, an emission reduction solution tailored to reduce fuel consumption, fuel slip, methane leakage, and unburned hydrocarbons.
Cooper's CleanBurn Plus™ upgrade package is a comprehensive solution that can reduce methane output by up to 40% in most of the industry's integral engine-compressors. For a fleet of engines rated collectively at 100,000 HP, this level of CO2 reduction can equal 20,000 tons/year, equivalent to the elimination of 2,000 standard passenger cars.
Our CleanBurn Plus™ upgrades are offered across our entire integral engine-compressor product line to include AJAX®, Cooper-Bessemer®, Clark, Enterprise®, Ingersoll Rand, and Worthington.
Product

Model

HP

Annual Savings*

Tons CO2e

Annual Savings*

Tonnes CO2e

Annual Equivalency Savings

Passenger Cars**

Annual Equivalency Savings

Bbl Oil***

Annual Equivalency Savings

Homes****

Cooper-Bessemer

16W-330

8,000

1,946

1,765

383

4,105

213

Worthington

MLV-20

8,000

1,480

1,342

291

3,121

162

Cooper-Bessemer

16V-250

5,500

1,338

1,214

263

2,822

146

Clark

TCV-16

5,500

1,249

1,133

246

2,635

137

Worthington

ML-12

3,500

545

495

107

1,150

60

Ingersoll Rand

512KVT

3,000

350

318

69

738

38

Ingersoll Rand

412KVSR

2,600

352

319

69

742

38

Cooper-Bessemer

GMW-10

2,500

843

765

166

1,779

92

Cooper-Bessemer

GMVH-10

2,250

482

437

94

1,016

53

Clark

HBA-8

2,050

426

386

83

898

47

Worthington

SUTC-16

2,000

514

466

101

1,083

56

Clark

TLA-6

2,000

454

412

89

958

50

Ingersoll Rand

412KVG

1,320

308

279

60

650

34
* Based on 4,500 operating hours/year, 930BTU/ft3 fuel
** Average passenger car generates 10 Tons CO2e/year (EPA)
Environmental protection has always been at the core of how Cooper conducts its business. We have been very active for decades in reducing our hazardous waste, managing water usage, and improving energy efficiency. For example, we recently replaced all of our facility lighting with energy efficient LED lights to help reduce our electricity consumption. But Cooper goes far beyond lightbulbs and water conservation in our efforts to protect the environment as we place environmental protection into our thinking when we develop our product and service offerings. Several examples: Cooper recently eliminated chrome and tin from our power cylinder and piston manufacturing process. We now offer a full suite of used parts and refurbished engines that keep customers from having to replace their equipment with expensive and environmentally unfriendly new products. We offer the world's most complete product suite for emissions reduction and can get today's integral and separable gas engines down to 0.5 gram/bhp-hr NOx. These are just a few examples of how Cooper is at the forefront of environmental protection in our industry.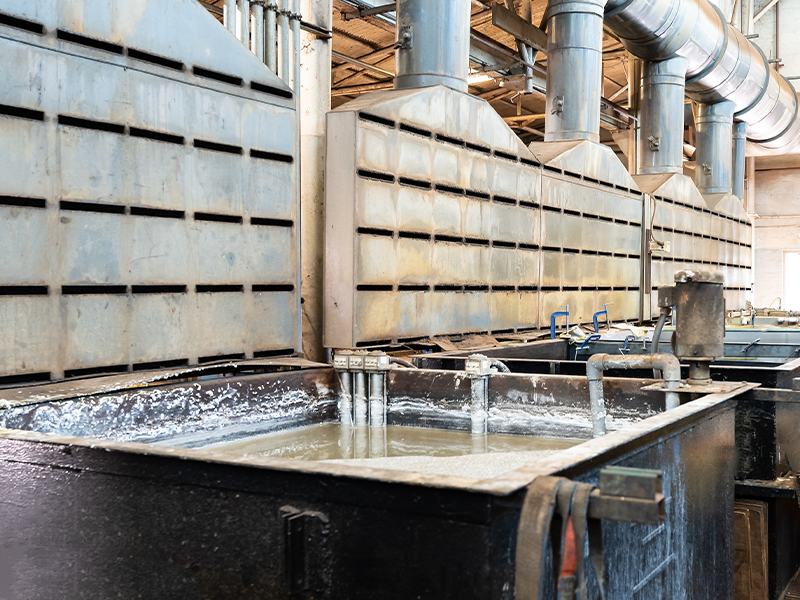 ELIMINATION OF HAZARDOUS PROCESSES
Cooper created better products and eliminated hazardous chrome- and tin-plating processes by developing new plating processes for our power pistons and cylinders. Chrome plating is hazardous for the environment, uses toxic acid baths and produces hazardous byproducts, which may cause various health conditions and pollution risks. Similar concerns apply to tin plating.
We eliminated chrome plating by introducing electrolytic hard iron plating to protect and restore power cylinders. It works better and it's far safer. And our chrome plating of power cylinders allows the customer to repair his cylinders and avoid the expensive and environmentally costly process of attaining newly built parts.
We completely replaced tin plating with dual-coated manganese phosphate and graphite technology for protection of power pistons. This is also a much better process.
Remanufacturing instead of new
Disposal of worn-out engine or compressor parts or outdated compressor packages can be costly and a significant drain on the environment. And building new ones can be even more expensive and detrimental. In order to reduce the environmental impact, repairing parts and repurposing of old compressor packages is the right choice. Cooper is committed to helping our customers extend the life of their equipment and bringing environmentally sustainable solutions to the market.
Besides the environmental impact, component repair and equipment refurbishment also provide our customers significant savings. We inspect and evaluate used cores and remanufacture them to our exacting standards. We operate numerous service locations in the United States and worldwide, each staffed by experienced personnel and equipped to restore parts for all makes of large reciprocating engines and compressors.
The lead times for a used package will be much shorter compared to a newly built package, and our O.E.M. certified refurbished packages carry the same warranties and guarantees as our new compressors. And consider the cost savings and environmental impact of refurbishing a new part or compressor in lieu of building new.
our suite of e.s.g. products
Cooper has a complete suite of products designed to reduce engine emissions, increase efficiency, and eliminate the need for the purchase of newly built products. Every new product and service we bring to the market is conceptualized and designed with some element of sustainability in mind. It is part of our process. It is part of who Cooper is.
QHSE commitment, policies, & Certifications
The safety of our employees and customers, the health of our environment, and the protection of the public are all core values at Cooper. We are committed to delivering the best quality and safest products and services in the industry.
Our zero-injury culture drives every element of our business. Training, prevention, policies, procedures, feedback and continual improvement are all keys to maintaining safety as one of our key metrics.
Helping Our Customers with their journey