texcentric Compression Valves
Our Texcentric team is here to serve all of your compressor valve needs.
IN DEPTH EXPERTISE, CAPABILITIES, AND PARTS INVENTORY
As part of Cooper's comprehensive after-sale line of services, Texcentric™ makes it our business to make your business more profitable. Texcentric™ is our dedicated Cooper compressor valve arm specializing in quality-engineered valves, unloaders, and parts for most brands and types of reciprocating gas and process/petrochemical compressors.
Texcentric compressor valve products can boost the efficiency, reliability, and availability of any compressor you're running — from gas transmission giants to compact 1/2 horsepower units. From our large inventory of replacement compressor parts, to our in-house engineering and manufacturing capabilities, Texcentric will design a solution to fit your need. Texcentric's O.E.M. experience and high-tech engineering center has resulted in valve products that deliver more efficient performance and longer service life than original components.
With more than 100 years of experience, no other valve manufacturer is more qualified to assist with performance and root cause failure analysis. For custom solutions, our skilled engineering staff can often resolve performance problems with compressor valves that may not require a costly investment in new components. Using computerized tools, we can model and evaluate the current operating conditions and, in many cases, recommend modifications to the existing valve design to maximize efficiency, horsepower, and throughput. We offer compressor analysis as well as additional engineering services including cylinder sizing, compressor piston design, and balance studies.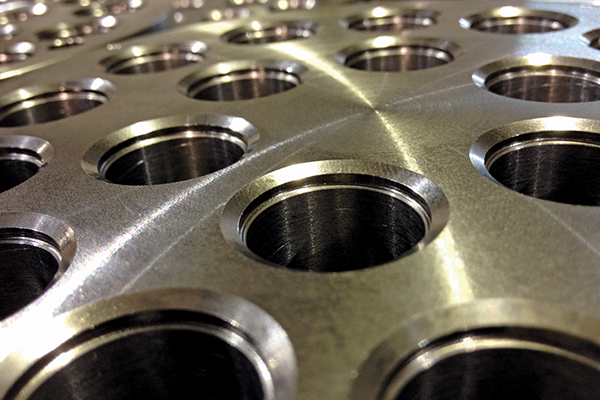 As the O.E.M. compressor valve team at Cooper, Texcentric has the experience and technical resources to solve your problem, whatever the application. Need a part? With our inventory of more than 6,000 items, we offer a full line of quality valve components to fit all the compressors that Cooper serves. 
Regardless of your compressor make or model, Cooper's Texcentric team provides advanced reconditioning of your compressor valves and warranties the refurbished valve like it is new. Our inspection and OEM procedures bring your valves back to like-new condition at a fraction of the price. Our reconditioning process includes cleaning, inspection, valve seat and guard re-machining, assembly, and final inspection before shipment.
Your old compressor may still be running, but chances are the valves inside are costing you power and efficiency. By retrofitting with new Texcentric valve products, any compressor can deliver significant operating improvements. With Texcentric replacement poppet valves, losses can be reduced to only 4-12%, which translates to a fuel savings of up to 12%. With today's high energy costs, retrofitting can deliver a payback in just 6-18 months.
EXCEPTIONAL QUALITY & ABSOLUTE DEPENDABILITY
In 1955, a compression engineer named Charles "Tex" Collins left the Standard Oil Company to start his own valve machine shop in Galveston, Texas. Together with his two sons, the family grew Texvalve Inc. into a supplier of compressor valves to all of North America. In 1984, Cooper Energy Services (today's Cooper) purchased the company from the Collins family and renamed it Texcentric and moved the headquarters up the road to Houston. Ever since, the Texcentric name has been tied to the Cooper organization and synonymous with compressor valve quality, service, and dependability.
texcentric product Models
| Product | Description |
| --- | --- |
| EPV-750 High Efficiency Compressor Valve | The EPV-750 Poppet Valve delivers the highest efficiency of any Texcentric valve design. Compared to conventional plate, channel or strip valves, the EPV-750 offers significant fuel or kilowatt savings through more efficient and reliable operation. The EPV-750 has been successfully incorporated in compressor designs from all major manufacturers, for operation in a variety of gas transmission, gas production, hydrocarbon processing and industrial air applications. Where conventional valves may experience losses of 6-20% (as a percentage of total indicated horsepower), the EPV-750 total suction and discharge losses are typically only 4-8%. This translates to significant fuel or kilowatt savings. Plus, with an initial cost of up to 40% less than conventional ported-plate valves, the payback time is typically less than 18 months. |
| DPV-250 Damped Plate Compressor Valve | The DPV-250 valve is often used as an engineered replacement valve when operators are experiencing continued breakage or failure of the current valve. It is designed to operate reliably in severe compression service applications by utilizing a cushioning action similar to a hydraulic shock absorber, as well as balanced spring design. Inherently rugged construction and design simplicity of the DPV-250 compressor valve provides excellent insurance against costly compressor shutdowns. The DPV-250 valve provides smooth, reliable operation in applications where wet or dirty gases, or gas across a high differential pressure, is being compressed. These valves are widely used in natural gas production, CO2 transmission and secondary recovery; chemical and petrochemical processing (particularly hydrogen processing); and industrial air service. The DPV-250 compressor valve can be designed to operate with finger or plug unloaders and is designed to deliver continuous, efficient service where other valves would fail routinely. |
| Unloaders with Metal Bellows | Texcentric unloaders provide operational flexibility in controlling compressor capacity. They can also be used to maintain operating pressures, temperatures, driver horsepower loads and piston rod loads within acceptable limits as operating conditions change. During startup, they can reduce the load on the driver by the compressor cylinder so that available energy can be used to overcome rotational inertia, rather than for compression. |
| SCV-600 Non-Lube Compressor Valve | The SCV-600 spring cap valve design delivers reliable service in non-lubricated applications. Typically SCV valves are found in chemical processing, petrochemical, petroleum refining, air separation and process air service. Although it is specifically designed for non-lube service, the SCV-600 performs equally well in lubricated cylinders. |
| ESV-500 Standard Ring Compressor | The ESV-500 valve uses concentric rings and a balanced independent spring system to offer maximum reliability and efficiency in a wide range of operating environments. Typically ESV valves are found in natural gas production and transmission, CO2 transmission, hydrocarbon and chemical processes, nitrogen and air compression. The ESV-500 can be applied to all sizes and brands of gas compress |